What is National Park and Recreation Month?
National Parks and Recreation Month, is the time of year dedicated to the wonderful local and state parks that were created for our enjoyment and wellbeing. It was established in 1985, by the National Recreation and Park Association (NRPA) to promote awareness about the importance of our National and State parks.
Throughout this month, the NRPA is planning special events and distributing digital/printed media to encourage all of us to take a break from our busy schedules to appreciate all the delightful parks and recreation resources in our communities. It is an important month to participate in because it helps remind our local leaders and legislation of how important it is to devote time, resources, and energy into maintaining our parks so that they can stay safe and clean.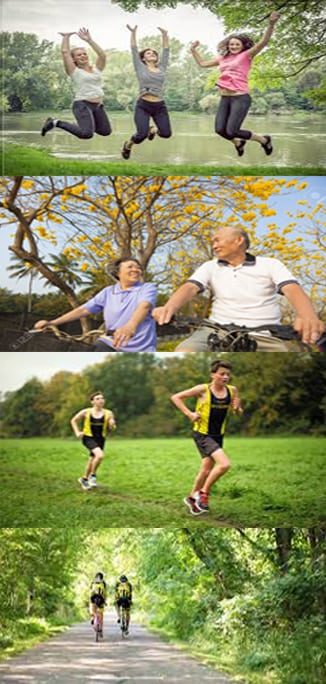 Why are parks so important to us?
Going to the park and exercising is beneficial to our physical health.

Going to the park and spending time in nature is beneficial to our mental health.

Parks provide a wonderful setting for celebrations like barbeques, birthday parties and picnics.

Many parks offer team sports, summer camps, classes and other community programs.

Parks promote economic development.

Parks help create safer neighborhoods and encourage engagement among citizens.

Parks help keep the air and water clean.

Our National Parks attract visitors from all over the world.

National Parks provide a home for our native plants and animals, many of which are endangered species.

How can I participate in National Parks & Recreation Month?
You can celebrate National Parks and Recreation Month by visiting any local, state or national park this July. It is a great opportunity to check out a new park you've never been to, or even plan a trip to a National Park you've always wanted to go.
After you have a grand time at the Grand Canyon, or any other national, state, or local park – be sure to post pictures from your adventures with the hashtag #DiscoverJuly so everyone can see how you chose to celebrate and get inspired to participate as well. There is also a photo competition hosted by the National Recreation and Park Association to win some awesome prizes.
One more way can get involved is by attending a community event and/or hanging up the official Park and Recreation Month poster. On July 21st many local parks and recreation centers will be hosting exciting events and open houses to showcase the variety of resources they offer and invite YOU to join in on the fun.
Whether you decide to spend a day enjoying a picnic with a friend, biking through trails, throwing a ball for your dog, or attending a community event – you can be sure that it will contribute to your health and happiness. After participating in National Parks and Recreation Month this July, you may find yourself wishing that you could celebrate our state and local parks every month of the year. But don't worry, because you can.
See the links below for more information how to take part in the fun 
Enter the NRPA photo competion 
About Park Warehouse
Park Warehouse carries high-quality commercial site furnishings for all types of indoor and outdoor facilities, like parks, office buildings, schools, and playgrounds. Consumers can purchase benches, bike racks, picnic tables, trash receptacles, bleachers, lockers, grills, dog park equipment, structures, message centers, umbrellas, traffic equipment, and more. While the company is based in Boca Raton, they supply commercial outdoor furnishings to customers throughout the nation.