Poland's futuristic new bike path enhances safety for night time cyclists - while achieving both sustainability and aesthetics.
This bike route in Poland is a must-see for cyclists traveling Europe! If you're ever visiting the country, rent a bicycle and ride along this self-sustainable luminous path. It is completely and solely charged by the sun! Riding a bike is also a great way of checking out the surrounding neighborhoods and getting a taste of local Poland.
The bike path is situated nearby to Lidzabark Warminski, which was the formerly largest city of Warmia as well as it's capital. Historically, it has been a pinnacle of faith and culture and was known as the Pearl of Warmia. The town and it's monuments are considered to hold great historical and artistic value, which makes it an obvious choice for such this incredible glimmering bike lane.
The path was originally developed as a creative solution to improve bike safety for night riders. However the splendor of riding a bicycle upon this glowing path is truly an added ­­advantage. It's really a great example of combining beauty with utility.
Imagine driving a road that feels completely alive, TPA Instytut Badań Technizynch Sp. Z o.o. made this possible. The minds that worked on the path designed it with functionality, safety, and innovation in mind. The solution designers came to when creating this luminous path was to use phosphor.
Phosphor is a synthetic material that illuminates after being charged by the sun. The phosphor collects sunlight in the day and can power the path for over ten hours continuously, which keeps it lit at night. Using phosphor brought numerous advantages when it came to cost and sustainability. The bike lane is not only cheaper than traditional bike paths, but it is also built to last. The colors of the path are produced by luminophores, which are basically minute pieces of the phosphor. Luminophores are able to project many colors, the designers at TPA Instytut Badań Techniczynch Sp. Z o.o. chose the color to make it a more natural addition to the surrounding environment.
The mesmerizing bike path was inspired by Studio Roosegarde's "Starry Night" path in the Netherlands. It literally feels like you're gliding along Van Gogh's famous painting. However, the Starry Night bike path in the Netherlands is not at all like its counterpart in Poland. First off, Studio Roosegaarde's bike path is lit by solar-powered LED lights. Whereas in Poland, TPA Sp. Z o.o. designed their path to function without the use of external power. Both of these lanes offer a glimpse into the future.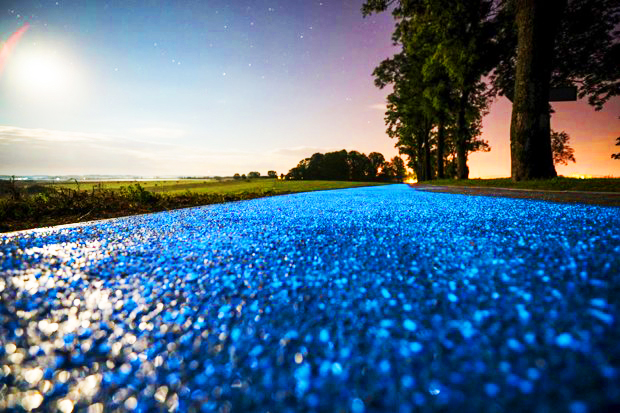 The ability to design both functionally and aesthetically pleasing spaces is every urban planner's dream. When designing public settings, you truly want your residents and visitors to enjoy being in the public space you're creating, new and exciting advancements like this glowing path one are a great way to make that happen. The bike path works to ensure the safety of people enjoying it at night while also being an attractive cultural site.
This kind of exciting new bike lane is in the trial phase, so it is unclear as to how long it will last, or if more paths like it will be created. All the more reason to check it out on when visiting this beautiful country.  Don't miss out on it!
About Park Warehouse
Park Warehouse sells high-quality commercial site furnishings for all types of indoor and outdoor facilities like parks, office buildings, schools, and playgrounds. Customers can purchase benches,
bike racks
, picnic tables, trash receptacles, bleachers, lockers, grills, dog park equipment, structures, message centers, umbrellas, traffic equipment, and more.