Installing top-quality commercial outdoor site furnishings is a fantastic way to increase the functionality and appeal of any outdoor space. Unfortunately, the constant contact with the elements and the heavy use these furnishing encounter can inflict significant wear and tear. How can you protect your investment and extend the lifespan of the furnishings? Regular maintenance is key.
Why does maintenance matter? For starters, it makes spending time in the space more desirable. After all, no one wants to use a bench or picnic table that appears battered, broken down or grimy. Maintaining your furnishings also protects the people who use them and your organization by preventing the safety hazards and liability issues that damaged furnishings can generate. What should a regular maintenance program include? While any program needs to involve both cleaning and physical inspections, the details depend on the materials that are utilized in the construction of the furnishings.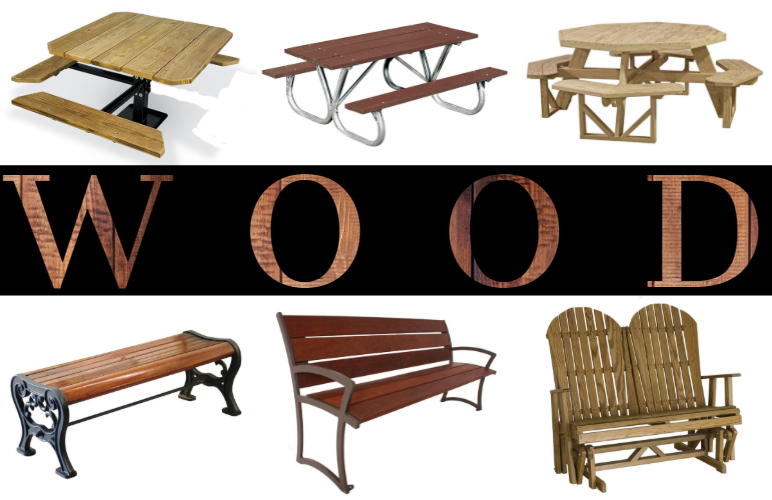 Wood Picnic Tables and Wood Benches
Whether it's the affordable beauty of southern pine or the lush look of Ipe or teak, wood delivers a natural, timeless charm. It is solid, sturdy and unlikely to retain scorching heat like other materials sometimes do, but it does demand regular care to remain at its best. To maintain wooden benches or picnic tables, start by wiping the piece down with a wood cleaner to remove any grease, grime or buildup. Then, inspect the furnishing for problems. Tighten any loose hardware, and replace any that has gone missing. Check for splintering or broken planks, and make any necessary repairs. Periodically, sand the piece and apply a fresh coat of oil, stain or polyurethane to renew the protective barrier shielding the wood. Experts generally suggest doing this once a year, but you may need to do it more frequently, depending on the conditions that the piece is subject to.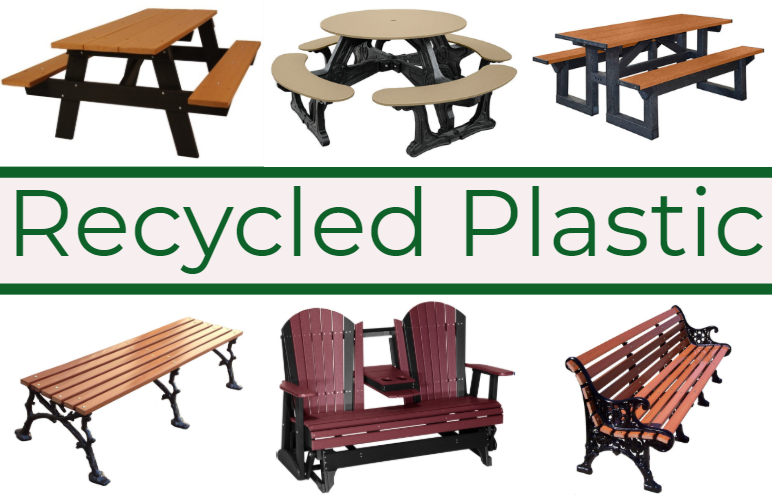 Recycled Plastic Tables and Recycled Plastic Benches
It takes roughly 3,400 milk jugs to make a 6-foot recycled plastic bench and 6,300 milk jugs to make a 6-foot picnic table. The result is a product that can easily last 50 years or more with just a little regular maintenance. Furnishings crafted from recycled plastic benefit from cleansing with mild cleaners. Baking soda can be used on stubborn stains, but aggressive abrasives should be avoided because they can leave scratches on the surface. After the piece has been cleaned, check for hardware issues or damaged areas and make any needed repairs are completed. If the surfaces seem dull, wiping them down with a little WD-40 can restore their shine. Alternately, a quick coat of automotive paste wax can be applied to protect the surfaces.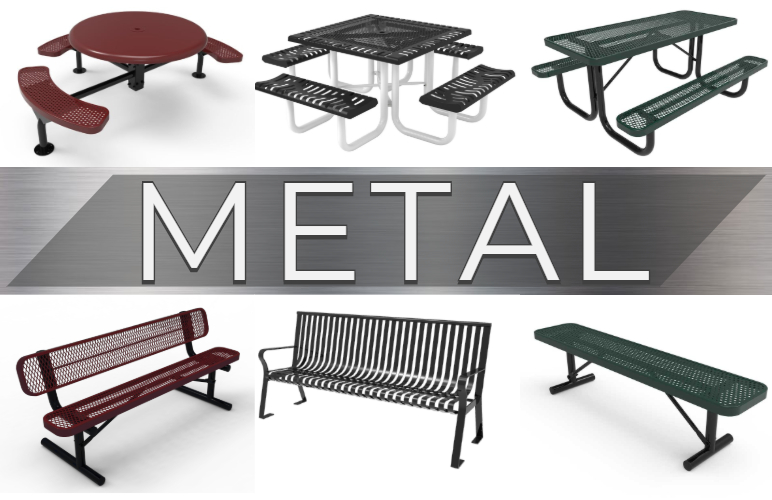 Metal Picnic Tables and Metal Benches
When you're looking for benches or picnic tables that deliver the best durability and longevity, metal outdoor site furnishings should definitely be on your list. Made from hard-wearing materials like molded iron, steel strap, punched steel, steel sheet, expanded steel or laser-cut steel, metal furnishings are perfect for almost any commercial space. While corrosion can be an issue, tough coatings like thermoplastic, polyethylene or powder coating can be used to shield the metal and add welcome color and texture to the furnishings. What type of maintenance do metal picnic tables and benches require? After rinsing the piece with a nonabrasive cleaner, look for broken welds, missing or loose hardware, or other signs of hardware and make the necessary fixes. Also, look for signs of rust or chipped or cracked coating. If rust is present, take action as soon as possible to stop its spread. Start by gently sanding the corrosion off. Then, touch up the area and any other places where the coating has been compromised with the appropriate touch-up paint or coating material. If your metal furniture is coated with thermoplastic or powder coat, then you have even more maintenance options. There are touch up kits that we can have sent to you in the event that you need to maintenance your table.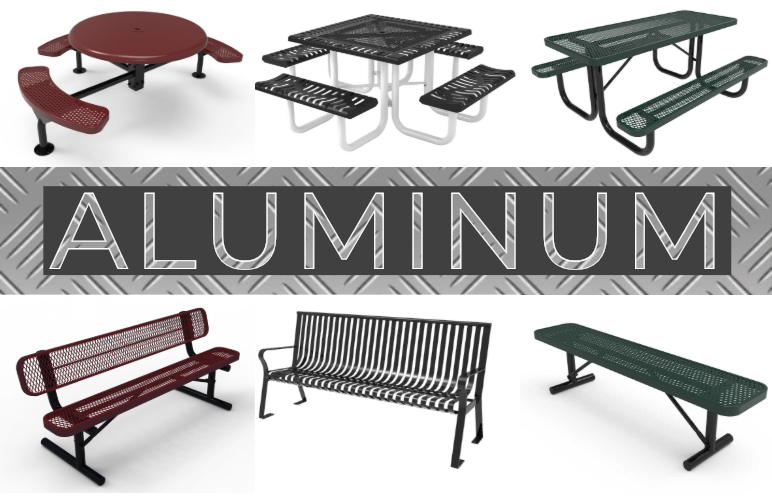 Aluminum Picnic Tables and Aluminum Benches
Lightweight, remarkably durable and endlessly recyclable, aluminum is a great pick for anyone concerned with being green. In addition, its superior ability to resist a variety of environmental conditions and low-maintenance nature make it ideal for most commercial outdoor furnishings. Even when faced with repeated impacts, heat, cold, salt air or a spill, aluminum that has been properly maintained can persevere and provide years of reliable service. The maintenance needs of aluminum picnic tables and benches are simple. Keep the bench or table clean by washing it down regularly with gentle cleansers. Be sure to avoid alkaline cleaning products, which can promote oxidation. Then, inspect it thoroughly for signs of damage or missing or loose hardware so that any issues can be corrected quickly. If desired, you can apply a coat or two of automotive wax to refresh the items appearance and provide it with an extra layer of protection.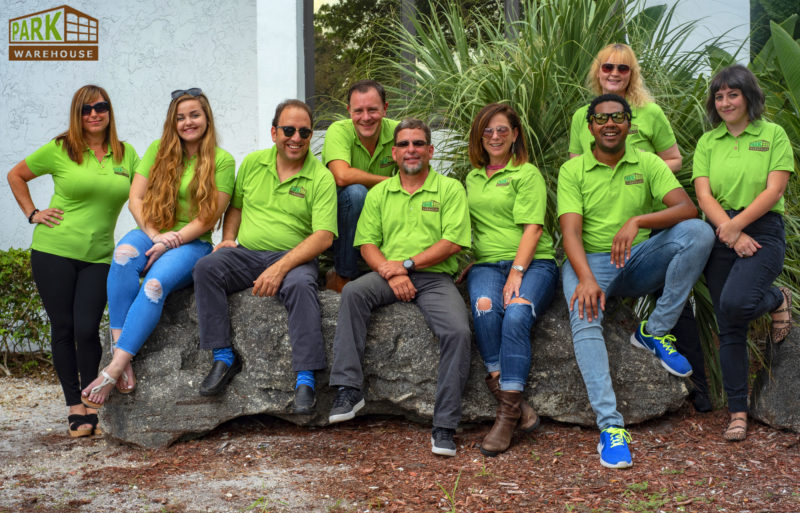 At Park Warehouse, we take pride in being a trusted supplier of picnic tables, benches and other commercial outdoor furnishings. With our expert product knowledge and commitment to excellent customer service, we're ready to help you select the right products for your needs, and our support continues even after your product has been delivered. You'll enjoy competitive shipping rates and the peace of mind that comes with our best price guarantee: If you discover the same product with a lower total delivered cost, then we'll match or beat it. Stop by our website to shop our extensive selection of top-quality commercial outdoor site furnishings. If you have questions or are ready to learn more about the Park Warehouse advantage, contact us today at 888-321-5334.