Purchasing new aluminum bleachers can be a challenge because it is a large budget item with a lot of specialized options. But not to worry – we're here to help! Our experienced sales team has helped hundreds of schools and organizations make the best bleacher investment, and you will find that there is no question we don't have an answer to.
We will help you to figure out exactly the kind of functionalities you need for with your bleachers, whether you need elevated viewing for sports like football, or portability - within a gymnasium, or even throughout an entire facility.  If your school or organization requires any custom options like custom seating and colors, or press boxes, or perhaps ADA compliant walkways or another special egress structure. Another important aspect when purchasing bleachers is the seating capacity. Will you be hosting 50 spectators, or 500? Considering all these factors will help you pick the best options for your crowd.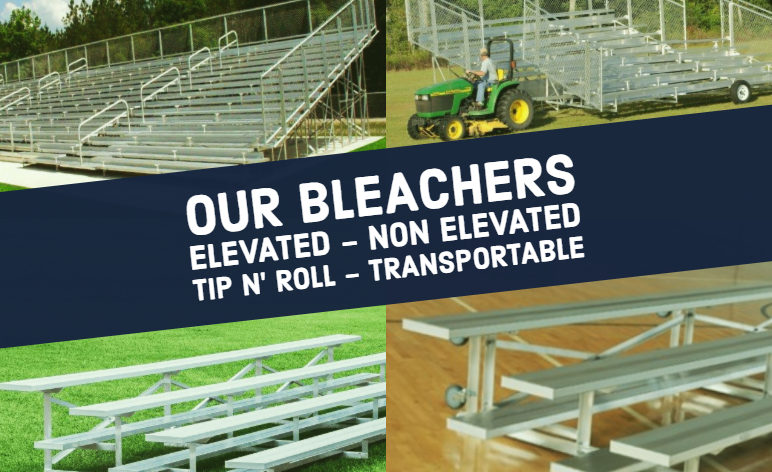 Standard Non-Elevated bleachers

are at ground level and come in 3 rows, 4 rows, 5 rows, 10 rows, and 15 rows. These popular bleachers are our standard model

Elevated Bleachers seating starts off at 2 ft 8 in above the ground for better viewing capability. They feature stairs, ramps, and guardrails, for safety. They are constructed with anodized aluminum which allows them to be utilized for years to come, withstanding varying weather conditions.

Transportable Bleachers can be towed around a facility or field to accommodate different event locations. They use a special transport kit that we have available separately. to hook up to a trailer hitch; they are commonly moved using a riding mower, tractor, or truck. Portable bleachers are only designed to be transported throughout a single field, or facility. They are not meant to be transported long distances on the open road or the highway.

Tip N' Roll Bleachers are a great multi-purpose option within a gymnasium for temporary seating, particularly when storage space is a factor. They can be stored upright so they take up minimal space when not in use and they are easily pulled out when needed. They're called "Tip N' Roll" bleachers because to transport them you simply tip them on their side and roll them to wherever they are needed. They come equipped with rubber pads and wheels, so they won't scratch the floors. A stabilizer bar is provided with each tip n' roll.
All bleachers designed in accordance with the IBC 2014, and ICC 300 building codes.

Welded Aluminum – The welded aluminum angle is the most popular shape used in bleacher under structures. These aluminum angle pieces are welded together to form the L shaped welded aluminum under structure.

Aluminum Tube – The next choice you are offered for your bleacher under structure is the square aluminum tube construction. Essentially, it is constructed by welding two pieces of the L shaped aluminum together thus making the box-shaped configuration for extra strength and rigidity.

Galvanized Steel – This under structure option is made with galvanized steel and has been hot dipped in a zinc rich galvanizing process. This chemical process gives the metal superior strength and corrosion resistance. The typical life span of galvanized steel products is 20 years+, and even then, it can be repaired to form by a welding process.
Foot boards – The lower plank where people place their feet, comes with a mill finish.

Seat plank – Where people sit, also referred to as "seat board", comes with an anodized finish.

End cap – Cap installed at the end of the plank to prevent cuts or tears.

Riser plank – The vertical plank under the seat to prevent children from slipping through.

Rise – The height of the distance from one row to the next.

Run – The distance from the front of one seat plank to the front of the seat plank in the next row.

Anodized Aluminum – Aluminum that has been through the process of anodization that    increases the thickness of the oxide layer thus making it harder, more durable, and less likely to corrode.

About Park Warehouse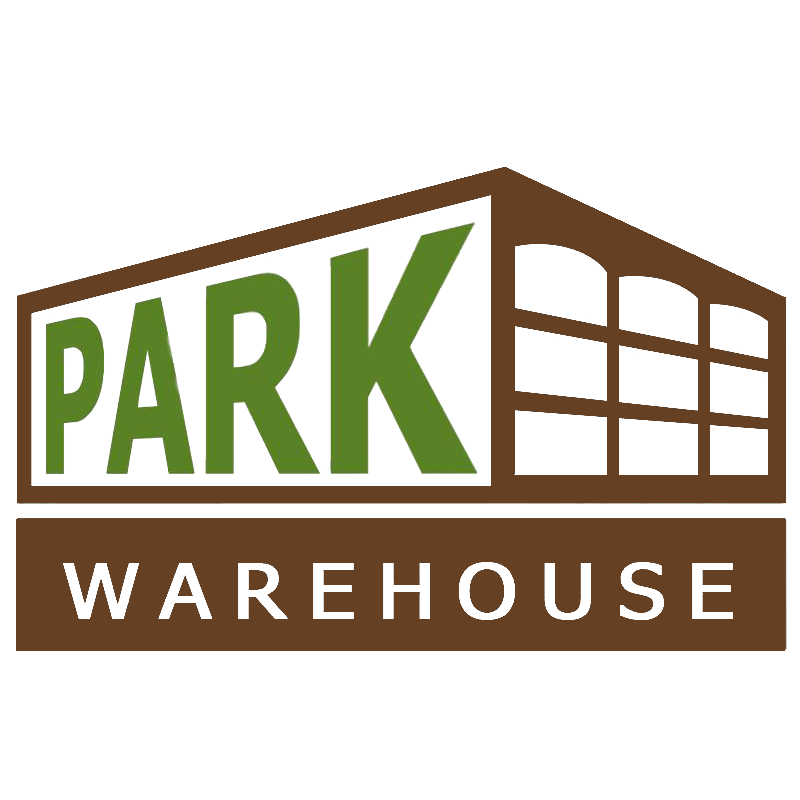 At Park Warehouse, we take pride in being a trusted supplier of picnic tables, benches and other commercial outdoor furnishings. With our expert product knowledge and commitment to excellent customer service, we're ready to help you select the right products for your needs, and our support continues even after your product has been delivered. You'll enjoy competitive shipping rates and the peace of mind that comes with our best price guarantee: If you discover the same product with a lower total delivered cost, then we'll match or beat it. Stop by our website to shop our extensive selection of top-quality commercial outdoor site furnishings. If you have questions or are ready to learn more about the Park Warehouse advantage, contact us today at 888-321-5334.